Celebrity Fashion Face-Off – Different Accessories, Same Designer Duds
It's an especially feared
feared fashion faux pas
: after tireless searching, tailoring, and pampering in preparation for a big night out on the town, two celebrities end up wearing the same piece of clothing. There are a few different reasons why this particular slip-up is so unfortunate. The ample opportunity to compare who looks better in a plunging or thigh-revealing gown is a definite downside, with older or less toned celebs taking a visual hit that otherwise wouldn't have had much cause to be published. There's also the issue of the time-honoured celebrity-designer courtship. If a certain design house offers a piece to a celebrity for a red carpet waltz or important event, the appearance of the same garment on someone else can detract from the selling and statement power created through the sponsored celeb's fashion "advertisement." Perhaps most importantly, however, showing up to a party looking like someone else simply isn't fun. Still, this couture tragedy is bound to happen on occasion, so what's the remedy? Costume jewellery, of course! Accessorizing with unique jewelry from bracelets to bangles and brooches to gemstone jewelry necklaces, and even throwing in the occasional bag charm, mobile jewellery, or crystal belt buckle is a great way to put personality into a piece of clothing.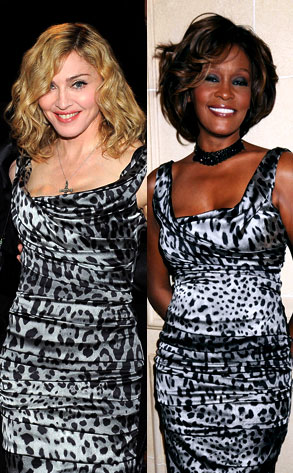 Recently, the identical dress discovery was made between two major music divas: Madonna and Whitney Houston. You can hardly blame the pair for their draw to the dress, a black and silver Dolce & Gabbana leopard print number with refined, squared-off straps and a generous neckline featuring flattering sweeps of fabric. Madonna and Whitney wore the dress on the very same night, but were thankfully attending different events. Whitney donned the frock to an album debut in London, while Madonna slipped it on for a dinner with the designers themselves in Milan. Both singers look fantastic in the dress, making an expose of who has a wider waist or whiter teeth an exercise in futility. But neither diva seems to have gotten the maximum value out of the gown through their choice of accessories.
Madonna chose a classic cross jewelery necklace with a silver pendant, slightly tucked beneath the gown's neckline. In contrast, Whitney wore a simple black choker, which may have been a bolder statement, but still lacked that something special delivered through the rhinestone sparkle and 14k gold sheen of quality costume jewellery. So what could these celebrities have worn to make their dresses look a little different? For Madonna, we'd recommend our
unusual cord, tassle, and crystal jewelry necklace
, in gunmetal gray tones that work well with the silver sheen of the dress. Our crystal charms would also be a great choice for a bag or phone, and
this black, white, and clear cosmetic compact mirror bag
jewellery would do the trick nicely.
For Whitney, we think our
rhodium crystal belt buckle
would make a nice accent, especially when paired with the sparkle power of one of our charm rings that doubles as a jewelry necklace chain, such as this
black and clear rhinestone-studded heart charm
.
Labels: accessories, bag jewellery, belt buckles, celebrity fashion, costume jewellery, jewelry necklaces, mobile jewellery, phone charms, same dress, wardrobe malfunction