Forgettable Fashion Accessory: Handerpants
Highlighting some of the season's best fashion accessories is a joy without which we might not be able to go on, but once in a great while an accessory is brought to light which merits being brought to the front of the class simply because of how bad it is. There have been some especially appalling examples of questionable accessories in the headlines in recent years, from the horrors of wearable blankets to all manner of baby bag contraptions that have tried –and failed-- tirelessly to make the necessity of caring around diapers somehow chic. Sometimes the very best regrettable accessories are born out of such apparent necessity, and there's nothing like the blast of cold winter weather to bring out the worst in accessory design. Shopping for hats, scarves, and gloves each year as the temperature drops is a pleasure for most fashionistas, and many may have noticed trends surrounding fingerless gloves. Often as cozy and comfortable as the originals, fingerless gloves supposedly allow for a greater range of motion and ability with the fingertips (say, typing an iPhone message on the go) while still essentially keeping the hands warm. The trend certainly has its critics, many of whom question the wisdom of keeping the most cold-vulnerable parts of the hands uncovered. But we think the pool of critics will likely get a significant boost thanks to the
launch of Handerpants
. The name may be horrifying, but there's something worse to come: these fingerless gloves are exactly what you're fearing. Tighty whities for the hands.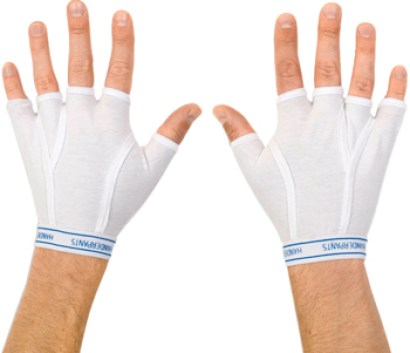 We're not sure precisely who the product managers had in mind when they began marketing these duds of winter fashion wonder, but we're pretty sure that the target audience wasn't particularly intended to have any back issues of Vogue. Crafted in cotton (arguably the only redeeming quality of the pieces), the Handerpants are sewn and seamed to resemble the plainest of boy-underpants, complete with a mundane elastic band that wraps around the wrists and proudly displays the name of the tacky product (just in case anyone missed the idea upon seeing the Handerpants themselves). Probably incapable of providing much of any warmth to the hands, these fingerless gloves may well be one of the most useless as well as the most objectionable fashion accessories we've seen on the market in quite some time.
It's hard to go wrong with a pair of quality cashmere or leather gloves for cold weather woes, and there are scores of other spot-on winter accessories that can brighten up any season. From the appeal of seasonal costume jewellery in the shape of
Santa's hat
or an
elegant snowflake
to pieces that incorporate both the
distinctive color palette
and cheer of the holidays into their design, fashion accessories perfect for gift-giving and splurging for the self can be found in abundance. We hope you're treated right this season and that Handerpants are safely kept limited to your computer screen!
Labels: bad fashion, costume jewellery, fashion accessories, Handerpants, holiday accessories, winter accessories