One Dress Three Ways: Accessorising the LBD
The little black dress, or LBD, is a fashion staple that has served its purpose at countless parties and social functions –not to mention simply looking great around the house. Imagined and created in myriad different forms, the LBD has enjoyed a rock star status within the fashion industry for decades, and is well-loved by fashionistas around the world. Able to flatter nearly any figure and add just the right amounts of elegance and refinement to a special occasion without causing any clashing issues or making a big deal out of line and form, the LBD is bound to remain one of the primary elements of any modern woman's wardrobe. Recently, a crop of TV starlets was spotted
wearing the same little black dress
to various promotions and red-carpet affairs. Luckily for the trio of television sweethearts, the events were well-spaced out between seasons, and no mishaps were had involving the dreaded same dress, same event coincidence.
Instead, the appearances of the dress can be considered for their interpretation of the best accessorising for the LBD, a challenge which has delighted jewellery lovers since the first small dark frock was donned. The dress itself is a strapless Camilla and Marc number much appreciated for its sweeping, generously shaped neckline, visually interesting wide-belt bodice, and an adorable tulle skirt that's just the right length for showing off well-toned, and well-tanned, legs. The dress has made its way into the collections of 90210 star AnnaLynne McCord, Disney princess Ashley Tisdale, and Glee star Lea Michele. All three starlets have been previously noted for their fashion prowess, even if they are relative newcomers into the demanding world of red carpet designs.
AnnaLynne McCord chose to accessorise this classic yet updated LBD with one of the most stunning accessories we've seen with such a dress lately. Fire-engine red pumps complete with peep-toes stole the show and may have taken a bit of the spotlight away from the dress itself, an upstaging act created with the co-conspirator of McCord's neon yellow purse. She chose a delicate, lariat-type necklace and a series of thick, elaborate cuff bracelets –perfect costume jewellery wear for playing off of a fun purse and pair of shoes.
Ashley Tisdale went for a glamorous look in footwear as well, choosing leopard print pumps to pull off an exotic feel. We didn't catch any necklace action going on to play with the beautiful neckline of this dress, but we did note Tisdale's delicate strand bracelet, a piece that looks perfect for the subtle nuances of .925 silver costume jewellery. Lea Michele let her dress do all of the talking in nondescript black shoes and a (gasp!) forgivable lack of
jewellery pieces
. How would you accessorise this immensely popular LBD, should you find yourself strutting in front of the cameras? The options with costume jewellery are endless –a nice compliment for the limitless versatility of the classic little black dress.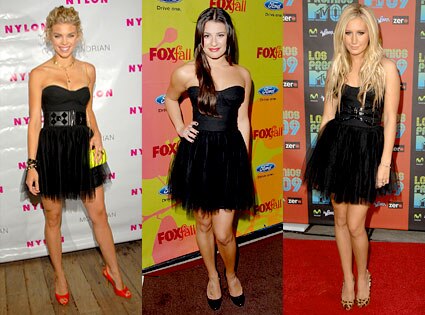 Labels: accessories, annalynne mccord, ashley tisdale, costume jewellery, LBD, lea michele, little black dress, red carpet fashion, starlet fashion